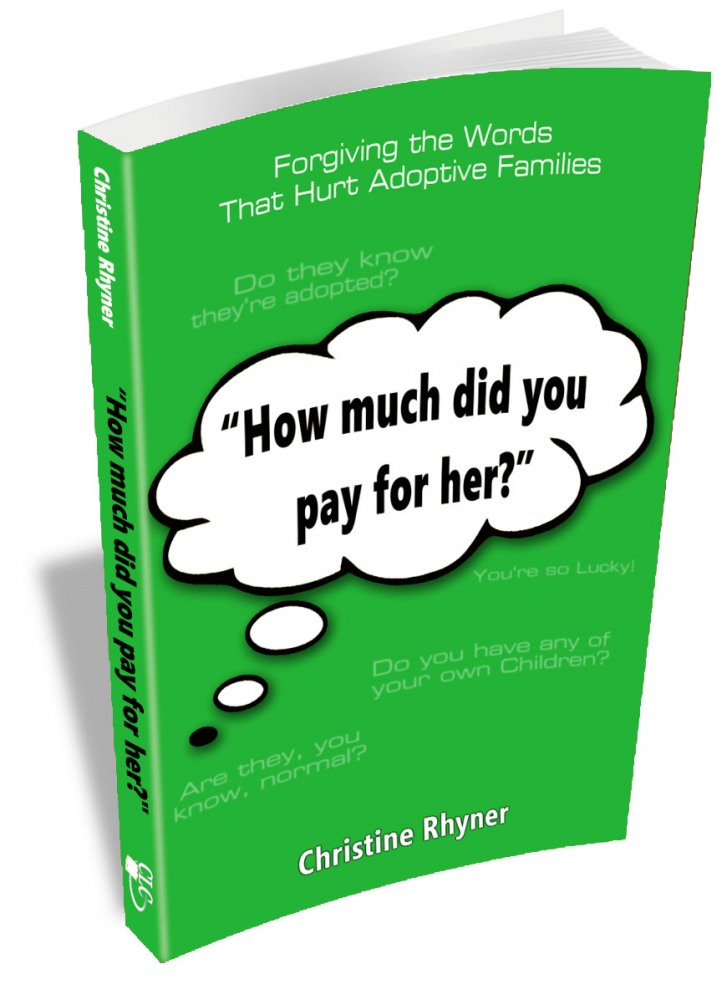 Understanding why people say what they do is the first step toward compassion, as it allows us to glimpse another s perspective. This can lead to giving others grace an undeserved gift of letting people off the hook for what they say that eventually leads us to forgive them.

How Much Did You Pay For Her? challenges adoptive parents to develop a better understanding of the motivations behind what can seem like an endless stream of questions and comments about their family, and at the same time, addresses the truth of how these exchanges really feel. This book will encourage adoptive families with a desire to forgive in their hearts to respond positively to those with whom they engage, transforming pain into gain.
Purchase Amazon: Kindle or Paperback
Purchase Barnes&Noble: Paperback or NOOK Book
---
Review
Any person who has gone through infertility and has walked the path of adoption will find in Ms. Rhyner's work both an author who keenly understands the common anguish and hurts that come with the wounding comments of family and friends, as well as useful insights and applications for navigating these from the perspective of biblical principles. Thank you, Christine, for not only acknowledging the offense and pain caused by others, often unknowingly, but leading the reader to the vital path of grace and forgiveness that is often sorely missing in adoption literature. --Jeffrey L. Nitz, LCSW Vice President of Adoption and Family Services - Bethany Christian Services

Rhyner s book is a positive paradox of moderation and extremes. Averse to legalism, she is a welcome voice of moderation when it comes to issues of assisted reproductive technology, name-it-and-claim-it theology, and the just rely on God, not on science mentality. She brings to her adoption story a balanced view of spiritual warfare, and a modest view of each person s role in the life of adopted children (we cannot save the world). On the other hand, Rhyner is extreme in her dispensation of grace and forgiveness. She is unrelenting in her desire to understand, rather than react, to the potentially hurtful comments that adoptive parents inevitably hear. Although there is nothing selfish about Rhyner s quest to extend grace to those around her, the journey is largely about the self. For example, she says, It humbles me to consider the possibility that the adoption of my children has far more to do with God s plan for their lives than with my desire to have given birth to them. She sees her adoption as a tool through which God developed character traits within her. We would all do well to examine our own histories to see how God used them as a tool for fashioning us into His image. --Daniel Nehrbass, Ph.D. is the president of Nightlight Christian Adoptions, which is also the home of the Snowflake® Embryo Adoption program

For adoptive parents (especially those who have adopted internationally), Christine Rhyner's How Much Did You Pay For Her? will come as a welcome source of wisdom and hope for dealing with all the comments, assumptions, and off-base attitudes that adoptive parents must often face. Filled with personal examples, Biblical wisdom, and insights based on real experience, Rhyner leads readers on a journey through various hurts and how to heal and offer forgiveness through each one. I recommend How Much Did You Pay for Her? as a valuable resource for those facing the unique challenges and joys of adoption --Marlo Schalesky, author of Empty Womb, Aching Heart, Hope and Help for Those Struggling with Infertility.