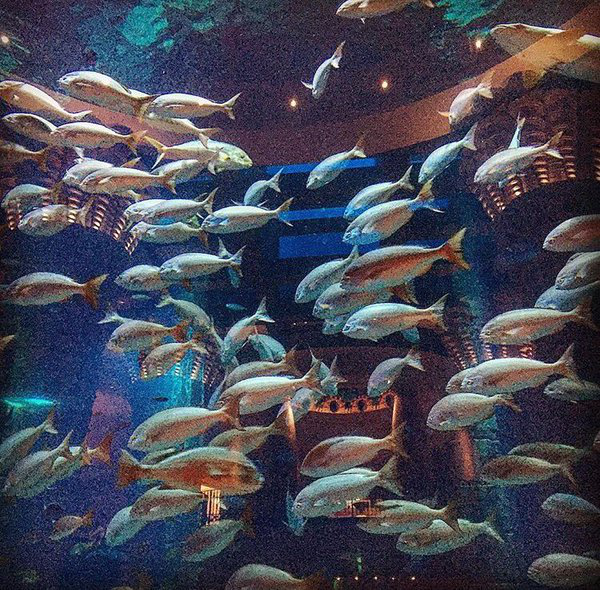 As a kid growing up, we had fish tanks. We didn't call them aquariums. They weren't filled with a rainbow of tropical or exotic neon species. The water didn't glow blue or lavender in the dark. I don't even remember filters or pumps or tops that covered them—though there could have been. But they lit me up.
One small tank sat in my bedroom and contained a feisty red-tailed molly that didn't swim well with others. Quite the rebel and athlete, it routinely hurled itself out from its lonely, aquatic home. Even, on one Saturday, with my eyelids fluttering in morning light, onto my bed. How it made the four-foot leap across the room to wind up inches from my torso seemed rather the magic act at nine years-old. After that I imbued the less than two-inch tailed creature with both human-like characteristics for wanting to snuggle in bed with me and mystical powers transcending normal fish capablilties. I'll never know, yet it was resilient. It made countless leaps to the floor, surviving the impact, the oxygen and I was sure in its fishy mind, the indignation of being dropped back into that tank.
In our living room, on a coffee table sat a larger tank. The bottom was covered with tiny, smooth, white rocks and the obligatory miniature replica of a sunken treasure chest. There was also a little fish "sanctuary" where any of the guppies and black mollies could break from the swarm to get in a little "me" time. And, we had a catfish I was told, to keep the bottom and sides of the tank clean.
What was especially cool to me was that mollies and guppies are live-bearing fish. We would notice them start to plump up some and knew baby fish were on their way. If we happened to time it right, we got to see a sprinkle of offspring tiny as the tip of a pencil descend from a mother fish. The black mollies were easier to spot than the guppies, which had a translucent appearance and required a hawk-eye to track. Back in the day before billion dollar special effects in theaters, cell phones and life more often appearing as illusion than reality, it was all mesmerizing to me.
But I knew what followed right away was the removal of the babies from the larger fish who would barbarically eat their own young. Mom would grab a mesh strainer with a handle and skim the water for those babies. I can say one had to be long-suffering to get the job done. First you had to find them. Ever so delicately the strainer went in so as not to create a tidal wave that would scatter them throughout the tank. Always, a grown fish would inadvertently find itself scooped up and plucked out. Then they were gently transferred into a tiny tank. This process would be repeated for what seemed like ages until my mother seemed satisfied that she'd rescued them all.
One afternoon we anticipated the arrival of new guppies from the sight of the swollen underside of an expectant mother. Then the unthinkable. Mom-to-be floated to the top of the tank, still and lifeless. A sensitive kid, I was aghast and felt helpless.
But never one to be squeamish, Mom sprang into action with her strainer. She ever so gently scooped the deceased silver fish with countless tiny bodies inside of her and laid her on a table. After disinfecting the tip of a safety pin she rolled up her sleeves and set about performing a Caesarean section on that fish. Rattled by the mere sight of a tongue depressor headed into my mouth, I couldn't watch. I backed away while she went to work, anxious about the surgical procedure. Mom squinted and poked and prodded. She pursed her lips as her safety pin retreated, hung back in the air while she seemed to calculate a different approach, then made contact with the belly of the fish once more.
It seemed an eternity before she looked up at me and shook her head. The guppy C-section would not be a success.
I forgot about this for many years. Yet, as often happens with memories, something will trigger the cobwebs to clear from some otherwise dormant part of our brains and it suddenly crystallizes. This is epecially true for me while I've lived on the water. It's as though the constant movement of the waves and a tide going in and out runs over years of hundreds of thousands of impressions life makes. It loosens and brings to the surface the stored images that have always been there. Or, perhaps all the water just gets me thinking about fish. But, as I've moved into this club known as midlife, it gets me to thinking about people important to me, like an aging parent. I am forced to realize they are finite, earthly beings instead of the powerful, larger than life presence they were to me as a child. Yet, they will always be that in my memories.
My mother could have looked at that guppy and said, "Gee, that's a shame." As with countless fish through my childhood; ones won at carnivals, raced home in sealed, clear plastic bags lest they suffocate, or the hundreds of baby mollies and guppies that never made it to adulthood, it could have found its way to its final resting place. That inexplicable dark place beneath a toilet tank of water where dead fish go. But she didn't. Something profound within her set about to save even the least of life not much larger than a grain of sand. It's this that speaks volumes to me of my mother's character, integrity, the lengths to which she has gone to fix a problem, find a solution, go the distance for her kids.
I am blessed to have her. I honor her. She's my hero who spoke volumes that day without saying a word. My mind has tucked away hundreds of conversations, lectures, wise remarks I surely made to her for a number of years. But love is action and it speaks louder than words, and that I remember.
God bless our mothers.