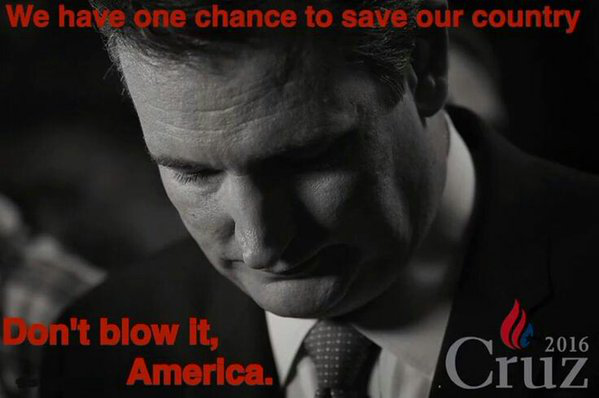 Ted Cruz is disliked by all the right people: The Washington Establishment. They dislike him because he tirelessly fights it from within. He battles against corruption, cronyism, waste and fraud, the things that allow Washington, D.C. and its outlying areas to house some of THE WEALTHIEST citizens in this country. Trump has funded it for decades.
Cruz has been fighting to uphold our Constitution, our rights as Americans. Many believe it is in fact inspired by God, and critical to understand, yet we do not teach it in our schools. Those who are part of the establishment may dislike these rights but they definitely dislike the idea of the gravy train coming to an end. They dislike personal agendas coming to an end. They especially hate that their power may come to an end, because Cruz doesn't believe in negotiations and deals that compromise and concede fundamental liberties. Trump is all about the "art of the deal."
Cruz wants Capitalism in our nation to work as it is meant to with healthy competition and better choices for all.
We are not a socialist country, yet we have many social welfare programs. Those that exist in our nation are burdening and bankrupting us and things like Social Security benefits WILL end if we do not reign in spending. With Obama and a Congress that has NEVER said NO to his ongoing demands, our national debt tips at nearly twenty trillion dollars, which Cruz knows will bring serious consequences. Those will fall if not on us, on our children and grandchildren. This insane spending is slated to continue under Hillary or Bernie--who would like to add untold trillions to our national debt and greater tax our incomes. They would like us, the middle class primarily, to contribute to free college and healthcare for all, and the housing, educating, feeding and medical care of tens of thousands of immigrants and refugees among many other things. As a result, we may see ourselves like nations such as Greece, Portugal and Spain, where college & medical care is free, yet where they are MAXED out on entitlements for all. They are financially bankrupt. Remember: As the government provides, the government decides. It determines what is taught, administered, to whom and how much.
The government decides who gets what kind of medical care, where--which can be lengthy journeys from people's homes-- and even IF it deems any candidates for Euthanasia, which other countries are now MANDATING. Medical personnel now decide who is too much of a drain on tight financial resources for care to even live.
Our own healthcare system is one hot mess with few doctors, less choices and huge waits for services at top dollar. Obamacare is collapsing on itself. As for our schools, they teach Federal Government mandated Common Core which includes things like a sensitive and inclusive understanding of the five pillars of Islam, yet neglects to teach about Christianity and Jesus as Lord and Savior of Christians.
These are the things that happen when government grows BIG, when people decide they want to depend on it from cradle to grave, and Washington is corrupt or decides it must enter in to messes it creates with huge sums of money it doesn't have to make promises it can't keep to fix things. Like Flint. Like Detroit. Like many other places.
More importantly, Cruz is also fighting the moral bankruptcy in our United States of America, now more divided and angrier than ever. The Democrats, liberalism and progressivism threaten to not only destroy our Constitutional rights but to further turn us into a truly godless, morally deteriorated and uncivilized mob. 'God bless America' will ring hollow in the ears of our Maker for we have turned our backs on Him. For what is it that made our nation great at all if not for our Constitution and our Judeo-Christian principles which enabled us to be loving and inclusive of other religions?
Was it not respect for authority like Police, not riots and violence against them which Bernie and Black Lives Matter urge, neighborly acts of kindness, the nuclear family and dignity even in moments of despair like the Great Depression? What about not sanitizing the names of sins to desensitize a society to it, religion taught in homes and schools, and a deal made with a handshake and a person's word instead of reams of paperwork, red tape, bureaucracy, credit scores, legal addendums and obstacles to everything including a roof over one's head, a job and basic healthcare?
You see the WINNING came after the foundation was set. We cannot go BACK to winning without first going back to our foundation, those principles, those morals, those Godly beliefs that made us great in the first place.
You can remain a Christian, liberal, Democrat, Republican or whatever you identify yourself as no matter who is in office in January of 2017. Yet, not only does God judge a heart, but He judges nations. Wouldn't it be really "great" if ours was truly one He wished to bless again?
Our nation is in a stage of transformation. We have a HUGELY IMPORTANT decision to make for our future, the future of our children and grandchildren. I believe that decision is Ted Cruz, and he is being sidelined by a Trump who the media is being paid to endlessly cover. We are told Cruz does not have the path to a nomination which is FALSE. He can win, but only if you care about being great again because you understand what once made us great in the first place. Cruz wants to do many of the things Trump does. But unlike Trump, Cruz understands foreign policy, how things work in Washington, how vital our Constitution is and how we do not want to give away those rights to liberal judges so that they take it upon themselves to change laws without the legal authority to do so. He is a man of integrity, moral character, faithfulness and one who does not think so highly of himself that he is going to force negotiations between Israel and Palestinians, or say that he never needs forgiveness. I don't know with how much more urgency I can express to you that if you ever want a free, dignified and prosperous country again for you or generations to come, you will VOTE #CRUZ. #CRUZCREW. #CRUZ2016