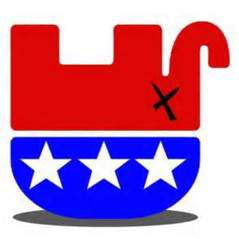 Recently, while meeting with Canadian Prime Minister Justin Trudeau, Obama said something true. He referred to The Republican Party "cracking up." And this is anything but in a funny ha ha way, but by rigorous, costly methods and means that make me wonder if the GOP is secretly Democratic or insanely suicidal.
For some, they've seen this downward spiral for quite a while. For your average voter like myself, neither a Democrat nor Republican, it seems the "establishment" is doing everything in its power to see Hillary as the next President of the United States.
Rubio's win in the D.C. Caucus is not news. After all, he is the establishment's favorite. And much to my dismay and perhaps yours, both his refusal to drop out of the Presidential race as well as Kasich's, spells a death knell to a majority of the "people's" votes. In truth, and not to upset people who support either of the above-mentioned candidates, this should be a two-man race between Trump and Cruz. Yet, the Republican Party is guaranteeing Cruz's demise, which is more than unfair to him and his supporters.
Because, this is all about stopping Trump, right? Yet Trump is the frontrunner. As the frontrunner, Trump has done something the GOP has said it wanted to do for a long time—expand and grow. Oddly, it is rejecting the very thing it has wanted. But it's about so much more than stopping Trump. This is about silencing its base and ruling with its status quo, a pretty unpalatable recipe it's been serving up for far too long.
No matter what people may think of Trump, the people should get to take it to the ballot box. Yet, the Republican Party is just as bad at trying to rob the votes of the people as is moveon.org., Bernie's minion-led organization wreaking havoc at Trump rallies. It's just as abusive for the GOP to throw its money and power at taking down Trump and thumbing their noses at Cruz including the millions of supporters between the two to reach their end. Is it suicide? Is it Democratic?
Further disheartening is the remaining Republican candidates' use of the recent incidents of disruption and fighting at those rallies not to discourage such, but to elevate themselves by smearing Trump.
Instead of telling people to be responsible for personal choices and actions, all this "violence" has made Trump out to be the villain. This is wrong for a number of reasons. Not only are individuals responsible for their own behavior, Bernie needs to disavow his constituents' actions. And, the reality that you have two Presidential Candidates who represent the polar opposite of what a fractured, divided country envisions for the future in Sanders and Trump has to be looked at as an expected source of conflict. As a potential next President, use your platform to talk about why such violence is wrong. Discuss how to deal with conflict, say something that does not fuel the fire by either conjuring up or reaffirming in people's minds how horrible your competitor is. That is petty, opportunistic and only adds to the problem.
So, despite the millions of people voting for Trump—whether you consider that a good thing or a bad thing—huge sums of money and efforts are focused on getting this process on the Republican side to a "brokered convention."
That is a disaster. It stinks of the GOP's chokehold over its own base, when it already repels many as it is.
Republicans are people fed up with the GOP for years of broken promises, getting virtually nothing done for its constituents despite its power, and complete disunity within that Party. They have watched with anger and disappointment at virtually no pushback against Obama's reckless spending of billions of dollars going towards things we have not wanted to pay for.
So, the GOP establishment will choose who it wants to run against Hillary and that person will not likely be your vote or mine, but someone who she has a good chance of beating at the polls. This is the very thing the Republican party says will be disastrous for our country. Yet, they are maniacally and illegitimately working to see this happen. And, if it does due to a brokered or in other words "controlled convention," the GOP is finished, done. And this once great country, including a Republican Party disgraced beyond repair, will have successfully placed a lying, corrrupt, murderous four more years of Obama into office. We won't be able to trust her nor will be EVER be able to trust anything about the GOP.