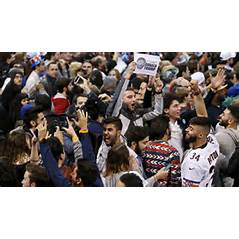 I imagine moveon.org and others involved are patting a collective back today for disrupting an event scheduled by a political candidate to speak in Chicago.
I did see the coverage. I saw not one, not two, but three protesters given the microphone by a reporter. This was a three-time opportunity for those to address millions with a substantive "why" they were there, "what" they deeply detest about a Presidential candidate and what they envision for America instead. All interviewed on Fox news declined to inform the American people, yet somehow we were to make sense of loud, nonstop profanity. There was one who oddly repeated "Fox News" until I thought he suffered mental illness. Then he went on to claim how proud he was to be from Chicago…then I saw him mercilessly taunt and incite a gentleman at least twice his age who stood there looking embarrassed for him with his hands in his pockets.
I saw some signs: "No Mexicans No Tacos" and "Healthy Young Girl."
I think I understand to an extent. You want tolerance, acceptance, open borders, a sort of celebration of all religions and ethnicities that are acceptable to you, free college and health care. The funny thing about the "tolerant" is that they have no tolerance for views that oppose their own. Think about it. If you're truly tolerant you would tolerate the intolerant and everything you find intolerable because you're well, "tolerant." At the very least, you would realize that we do not live in a "dictatorship," and NOBODY has the right to run the narrative while obstructing others' rights to take part in the political process. Own your own behavior. Don't imagine a racist, bigoted dragon.
No matter what you may think about a Trump, he is not racist because he wants to build a wall. This effort was started back in the 1980's. Do you not understand that "open borders" are contributing to the very things that make you mad? That would be your friends dying from drug overdoses, violence and not enough money to go around for you to get better healthcare and those other things you want like college tuition. Incidentally, "free" college would cheapen your degree to less value than the paper your diploma is written on. It would require many to further their educations after four years. And, it would create a ton of waste of money WE DON'T HAVE with scores of people jumping on the "free" bandwagon only to realize that college requires effort. Or I assume it still does. Students seem to be too busy protesting any and every thing that I wonder what they are actually LEARNING. I do know that factual history and the Constitution are being eliminated because they're so offensive to some. Trump has promised to address economic inequality and healthcare. That's terrible isn't it?
I do not think, with your love of tolerance that you particularly like living in a free nation, a democracy, one where the people choose political candidates. Unless of course you believe only the right people should get to decide and to heck with anyone else's First Amendment right. Many of us are angry with the "establishment," but that would be have to be the likes of Rubio and Kasich, trying to suppress people's votes, take down not only Trump but Cruz as well, and bring this whole process to a brokered convention. You should be mad at them for taking away anyone's vote and letting the "establishment" choose. Yet, in your thuggish, uninformed anger you don't even understand this. Nor does your revolting, unruly behavior demonstrate you even want a fair election. Would that not be the height of intolerance?
No matter who your choice of a political candidate is, I think you need to examine the process and realize you are hindering it. You also did the people who came to the city to see Trump speak a great disservice. So many who traveled miles and waited hours can't get their time or money back and left without the information they were after. Many have not even decided to vote for him but simply wanted to hear him for themselves. How's that fair or tolerant? How is suppressing others' rights simply exercising yours?
I think it boils down to FEAR. You're deeply afraid, not just full of misdirected, uninformed rage. But be angry that Obama has tilted this country so far left and caused such division with his own notions of tolerance that he has created empty spaces for not only a caliphate to grow in the Middle East, but a huge space here for a Trump to enter. Be angry that he is personally responsible for more national debt than EVERY other President combined. Be angry that as our first black president he is not a president for blacks but has forsaken them to stand proudly in mosques, knowing full well that racial tensions in this country now rival that of the 1960's. Be angry that he is rolling people in from virulent countries that cannot be vetted, assimilate and that the government must support. Be angry that the GOP has not pushed back against him for seven years and has nearly bankrupted our country with his every wish and demand tied up neatly with a silver bow on top. Be angry that while Isis rages and kills, so many activist groups have sprung up we can't keep track of them. Yet, we do not see new groups called "Peaceful Muslims Against Isis," or "Moderate Muslims Against Radicals" or the like. What in the world is wrong with a pause on immigration?
I think you're actually scared to death someone may come along and stop a large and metastasizing portion of America looking for government to care for them from cradle to grave who scream ENTITLEMENT to any and everything it can dream up. Many of your grandparents and great-grandparents lived through the Depression. They had NOTHING. Yet they worked relentlessly, behaved and had dignity. A nation goes through difficult economic times. Grow up and deal with it instead of demanding government OWN you.
If any one candidate can stop people who seem to have been raised by wolves from screaming their demands and whipping up a new "Affront du jour" every twenty-four hours, I for one would support that. And, Trump isn't even my first choice.