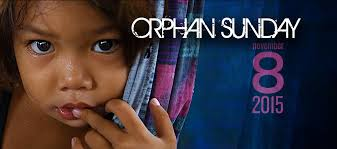 Today is "Orphan Sunday."

What does that even mean? For one, it is intended to bring awareness to the 175 million orphans worldwide. That includes those who, every fourteen seconds are orphaned from AIDS alone. It means that the less than 200,000 annual adoptions, according to UN statistics, cannot meet the needs of children whose status as orphans goes hand in hand with issues like poverty, disease and hunger. But more importantly, it drives home Mother Teresa's point that, "The hunger for love is much more difficult to remove than the hunger for bread."

The Christian Alliance for Orphans, which has over 150 respected ministries and thousands of member churches, began their own version of Orphan Sunday some years ago. After an American named Gary Schneider attended a church service in Zambia, so moved was he by the pastor's call to care for its starving, sick orphans, so touched was he by the poor who attended that service and removed their own clothing and shoes in response to that need, he promised to spread the word. And the word spread like wildfire. CAFO honors the Zambian church for the gift of Orphan Sunday and their inspiration to care for orphans. In fact, O.S. is often called "Zambia's gift to the world."

Not everyone thinks about the orphan. Or maybe they do, but feel overwhelmed by the idea of tens of millions of children in faraway places that they cannot bring home.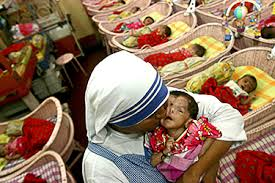 Or maybe there are just so many charities coming to call: from wildlife preservation to environmental protection to the local police precinct, everybody has a need, wants a piece of us. And I understand. I believe God can call each one of our hearts to different kinds of ministries and causes. But the question that I always ask is, If we cannot put people first, especially the most vulnerable and hurting among us, who are we as a society?
The wish that remains with me beyond O.S. and National Adoption Month is this: Before we spend tens of millions of dollars to find a microbe on Mars, we would look into the faces of all the parentless, abandoned and at-risk organisms here on earth. In doing so we would become even more enthused by their existence. Granted, space exploration is cool, but face exploration is cooler. Especially if a frown turns to a smile, a cry, laughter, a tiny face filled with fear and loneliness into one of contentment and trust.