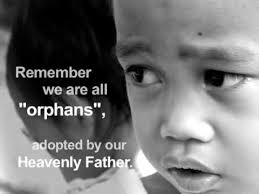 November makes my heart swell. It is National Adoption Month. Ironically, our son Lucas was welcomed home from Vietnam on November 8th, followed three years later by Olivia from China, in the wee hours of November 25th, Thanksgiving morning.
We celebrate the anniversaries of our children's adoptions humbly, grateful to God for orchestrating their journeys home. And, for fulfilling a promise from His word that I clung to, to "settle the barren woman in her home as the happy mother of children. Praise the Lord." (Psalm 113:9)
It seems so fitting that NAM coincides with Thanksgiving. As we gather together at a table laden with God's bounty, our family takes turns sharing what we are thankful for. There may be as many as two dozen of us, each one for a moment transparent, willing to give God the glory for something good.
And November, already a time of immense gratitude, marks yet another adoption. It is the anniversary of my spiritual adoption into the family of God on November 4th.
But when the fullness of the time was come, God sent forth His Son, made of a woman, made under the law, to redeem them that were under the law, that we might receive the adoption of sons. And because ye are sons, God hath sent forth the Spirit of His Son into your hearts, crying, Abba, Father. (Galatians 4:4-6)
R.C. Sproul says, "We are born as children of wrath. The only way we enter into the family of God is by adoption, and that adoption occurs when we are united to God's only begotten Son by faith. When by faith we are united with Christ, we are then adopted into that family of whom Christ is the firstborn."
As adoptees, my children have experienced loss, grief and trauma. Yet, how amazing is it that they were chosen by God for us to raise them in faith to have a relationship with their True Father. It is not by happenstance for God says of all people, "…He determined the times set for them and the exact places where they should live. God did this so that men would seek him and perhaps find Him, though He is not far from each one of us." (Acts 17: 27)
Mixed with my gratitude in November is a great yearning. I desperately long for the 175 million orphans on this earth to know God's love, His blessing and provision. We can all make a difference by being aware of their existence. We can pray for them, give to charities and organizations and consider adoption.