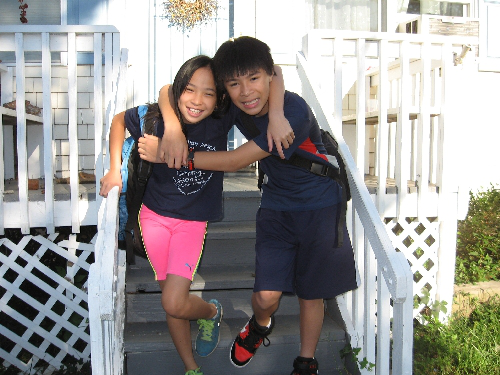 Another house is gone. So are the experiences while inhabiting that little beach house overlooking the wetlands—the one I referred to on days when it seemed cramped and shabby--as the troll hole. So too are September, 2014's tears shed over the loss of the house before that. And that initial hit to my self-worth in the step down in status from homeowner to renter. The sting I felt over the lack of home-baked goodies presented to me on my doorstep by friendly new faces greeting me with a genuine, "Welcome to the neighborhood" – because I'm now a lowly renter. Gone is the job I often loathed but felt I needed to keep in order to somehow redeem myself for senseless spending. The release of my debut book. The realization that nobody cares.
I sat at my desk after that stunning December 1st text message, "Sorry to do this to you, but we'd like to move back into our home by January 1st…" and heard, not in an audible voice, but rather by way of a distinct message planted in my head, You won't learn if you stay.
With 30 days to vacate just three months into our second year, leaving the beach house felt more akin to that of being sucked out, much like the dust and cobwebs I vacuumed from stark naked places where furniture had rested, possessions had been stored. The stress of working and searching for a home led me to once and for all quit the job that always left my husband the recipient of my whining, complaining and raging. My anger then targeted this landlord who I deemed to be heartless, unfair and unrelenting. I wanted to snap at him when he began dropping things off days before our move out date. I was speechless when, at ten am on New Years' Day he knocked on our door wondering, "So, you need twenty more minutes or so?" He utterly got me frazzled with the surprise appearance of his rented U-haul parked outside a little while later ready to unload his family's life possessions as I was collecting the rest of mine in black trash bags, pockets and a bucket. Why hadn't we thought about drawing up a new lease agreement for our second year?
I walked down the driveway for the last time after a mostly sleepless night on a Styrofoam mattress on the floor of a near bare house, a television a few feet from my face firing bright and rapid images of confetti, fireworks and crowds of smiling faces cheering and tooting to the start of 2015. Who cares? I thought. It was the same mattress where the four of us earlier watched the countdown to the New Year with pizza and soda. But the rest of the family slept for the first time at the new house. I stayed behind with our two dogs who decided the evening's rest would take place on my blanketed legs--the only soft, warm spot left in the nearly barren home--so as not to waste a moment in the morning to finish up the move and clean up.
I clutched my Shark in one hand and announced, "All yours" to our landlords. As I turned to face them, I heard a loud fwump followed by a searing pain which began at the back of my head and quickly radiated throughout, while black dots swam before my eyes. I trust their five year-old son will fit right into the neighborhood, keen on sports, of which his strength and skill will be that of kicking a soccer ball with the force of Goliath.
Our cars stuffed to capacity, we drove the six miles to our new rental. Those words, You won't learn if you stay had begun to haunt me, filling me with dread over all I needed to learn and how I was to do just that.
As I stepped in, the sight of all of our living room furniture in a heap in the middle of the floor greeted me. I gave my husband a look of despair to which he responded, "I didn't know where you wanted everything honey!" His tone implied that he had given me a gift—the choice of where to put stuff—when all I really wanted was a cushion on the couch to set myself down. Then a stench began to fill my nostrils, growing stronger by the second as I wondered if one of the kids were filled with gas from too much pizza and soda over the past few days. Something sent my gaze downward, to my feet, and there, christened by one of the dogs was the new landlord's $6,000 area rug covered by a fresh Gee, I'm really nervous and excited POO.
"Clean it up! Get that rug out of here!" I barked to my family as they scrambled to comply, taking the cleaned rug down into the basement. The place was freezing, and no matter how high I turned up the thermostat, the temperature stubbornly remained at 64 degrees.
Something in me began to snap as our first call to the landlord was placed about the heat and he came over to investigate. I hated the house. Hated the wood paneling that made it so dark. Hated how I felt isolated. Hated the piles upon piles of stuff left behind in closets, cupboards and drawers in every room. Hated that we had to move when we weren't yet ready to move. Hated that the plan was messed up to rent a while, save up cash and buy our own home again. Hated that the landlord told me where I should and shouldn't put furniture, told me what temperature to keep the thermostat turned to, hated that my kids were removed from friends in the neighborhood, that the stability I so desperately wanted them to have was disrupted yet again with another move. I hated me, and while I went through the trauma of this move, every past trauma and mistake filled my head and heart until I thought I would die from the weight of it all.
I mostly stayed in the car where I could turn up the heat all I liked. I drove to the beach down the street from our now old house and cried to God, Why? Why? I refused to shower, eat or set foot in any of the rooms except the bathroom and living room. I screamed and hollered, I hate it! I want to kill myself! And when my husband took the kids out for a couple of errands and was gone for five hours, I got angry at being deserted and smashed plates on the kitchen floor, threw an entire bag of dog food all over the dining area and like some deranged character in a horror film, crept upstairs with the scissors where I got busy cutting up his clothes. (Fortunately the scissors were quite dull and would not make their way through more than a thin pair of boxer shorts.)
My brain volleyed blame toward him for constantly saying he would do things to get us in a better financial position--that never got done--for knowing how much I hated the area for a decade and a half, to me for not being who I wished I was and back again to him.
Exhausted physically, emotionally and spiritually I was filled with bitter self-condemnation. I continued to blame myself for the mismanagement of finances that I believed paved the way out of our home sixteen months ago. If not for that, we wouldn't have had to rent the beach house. Then we wouldn't have been virtually kicked out and here, which was nowhere closer to having our own home again.
Truly, I felt out of control and lacking ability to gain any control. No control over where I really wanted to call home—my idyllic white house with the wraparound porch in a climate warm and sunny year round--or how I make money or how many people I can make care about my book and its message or anything.
And if you've cared to read this far you get the point. None of us really has control over many things in life. So after about four days of this complete misery of raging or crying, I realized I either needed to check into a mental health facility or Stop.
I understood that I had mostly been angry the whole time we lived overlooking the wetlands. Oh, the focus of my anger would shift from this company to that family member to this certain boss to that ugly blue and white striped couch, but ultimately I was angry with myself, with God and for not having control—which I blamed on myself and God.
The source of all that anger has been fear. When we live with rage in our hearts we are often scared out of our minds that we cannot have our three basic needs met: Love, significance and security. I felt no love for myself because even though I've written a book on forgiveness I still have not forgiven myself for my sins and mistakes. I was sure God had abandoned me, found me completely unlovable because things haven't turned out the way I wanted them to. But God told me at that beach where I cried out to Him, "I love you not because of who you are but because of who I AM." I realize that in my heart I have unforgiveness toward Him for life's disappointments and traumas. My job and my book have not brought me the significance I thought they would. Therefore, the security I crave by way of a nice house of our own and no financial struggles has not materialized either.
You won't learn if you stay is about all these difficult lessons. It's about trusting God enough to not tie up my security in whether I rent or own a home. It's about finding my significance in who I am in Him, not by how many books I can sell. It's about allowing His love in by forgiving myself and understanding better who He is, and just how much He has blessed and protected me. Loving Him cannot happen if I don't accept that which He allows in my life and ask Him to remove the unforgiveness in my heart toward Him for allowing heartache, disappointment, grief and trauma.
I think leaving our last home has resulted in a piece of myself left behind. At least I hope and pray so—it was a bad part, an endlessly angry part, a part who lacked faith. So it's a New Year—out with the old, in with the new. But it's not about measuring life in blocks of three-hundred and sixty-five days. It's about a continued journey that like God's mercies is new each morning. It's about His continued healing and losing more and more of the "old self" so that He can continue to transform us into the image of Christ.