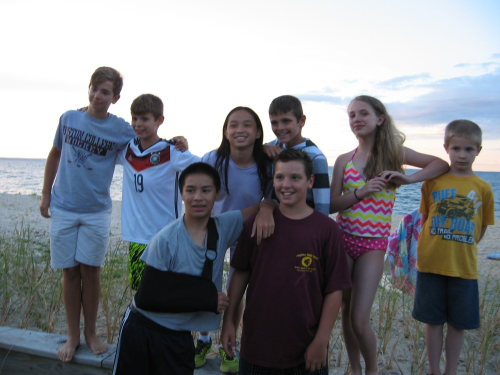 Recently I spent some time at a family member's beach house with nine kids ranging in ages from eight to fourteen years old—seven boys and two girls. My thirteen year-old son Lucas, adopted from Vietnam, and my ten year-old daughter Olivia from China, were among them.
All family, and feeling comfortable with one another, they discussed things like sex, periods and…adoption. I know because my kids told me, and what resulted was the knowledge that although I've told my kids about their "stories" from early ages, apparently they have forgotten them. What was reported back to me was that they had intertwined their stories into a tangled mess of assumption and incorrect information.
I believe many an adoptive parent does struggle to communicate to their child or children the "whys" of abandonment, particularly when we have next to no information about birth parents, circumstances surrounding why they were given up or potentially a lack of truth from a foreign country. But I believed it was important to start explaining things to them as early as possible.
For some reason, perhaps because I was researching about it at the time, or because I was struggling for something to explain away her pain, I told my daughter about China's "One Child Policy." In retrospect, not the best of ideas. I think I left her feeling that she was unwanted because she is a girl, or that her parents wanted a "better" child, or that she has a sibling out there somewhere she will never meet. I have had to back track on this and try to undo whatever damage I have done in explaining this policy to her.
Now thirteen, my son shared with me that he just "assumed" Vietnam had a similar one child policy and he was given away because his birthparents wanted a girl instead. This, despite the fact that I have explained about his birth mother being young, poor and unable to care for him. Wow.
Back to the beginning we went, correcting the story. But it's oh so difficult to try and communicate things to children like poverty being a factor in being given up when they live a life where all their needs and those around them are met—in abundance. How does one explain "youth" and being "unmarried" as factors contributing to their circumstances when we live in a culture in the U.S. where young, unmarried mothers are common? And how do we make it Okay for them when most of us can never truly understand their pain and, in my case, have children that don't even really want to talk about it?
I admit I am always learning on this journey as an adoptive parent. The more I know, the more I realize I DON'T know.
But I have started to believe that rather than "particulars" or "facts" surrounding birth stories and history, the focus should be the truth that:
NO parent ever WANTS to give up a child.
The pain of losing a child is deep and the child is never forgotten.
The birthparent cared deeply enough about the child to give them life.
The birthparent left the child in a safe place to be found and cared for.
The birthparents had great hopes that the child would have a good life and opportunities beyond what they could provide for them.
We can connect the child with their past and integrate this past with their present and all they will become in the future by visiting their birth countries. We can have them write letters to birthparents expressing their feelings. We can participate in ceremonies of our own creation, culture camps or, as they get older, have them participate in volunteer activities where they can better understand need and poverty.
Yes, had I to do it over again, I would have offered my children a different view of their stories.
But I realize after our beach house adventure that we must continue an ongoing dialogue with our kids about their past. I also think that a therapeutic situation for any adopted child is appropriate and beneficial.
If you are interested in learning more about my personal journey through infertility to adoption and beyond to raising my kids, check out my nonfiction book, "How much did you pay for her? Forgiving the Words That Hurt Adoptive Families," released this month. Available through www.clcpublications.com, Amazon, Kobo, Christian Book Distributors, Google, Apple and www.barnesandnoble.com.