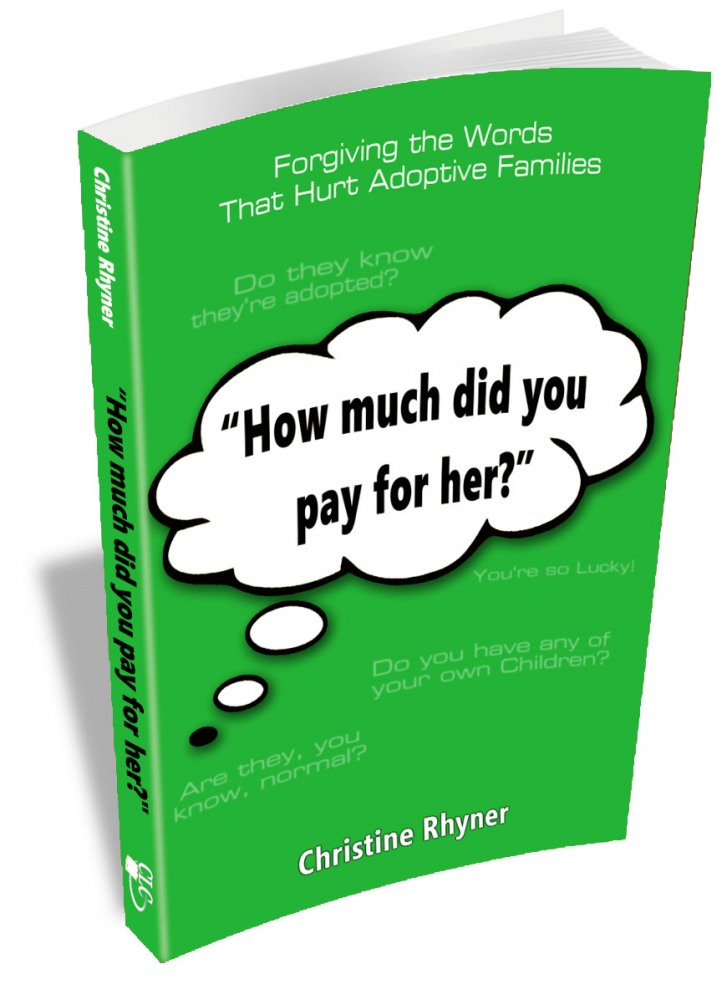 I found Christ at the age of thirty, but this was only the beginning of learning to forgive those who had hurt me—and of extending grace to myself. Finally married to a wonderful man in my mid-thirties and desperate to start a family, I endured letdown after letdown as our hopes of conceiving a child were dashed, one blow at a time.
My husband and I were eventually led to international adoption, an arduous experience in itself but one through which I gained a tremendous measure of healing and joy. Our son, from Vietnam, and our daughter, from China, are treasured gifts from God. Still,even after receiving the desire of my heart, I have continued over the years to field misguided comments and questions from others. To these I have learned, and am learning, to respond with grace.
Any couple that experiences infertility and then takes on an adoption journey will be exposed to words that hurt. From "Gee,if you just had a little more faith that you'd get pregnant" to "Are those kids really yours?" we who walk this path are subject to a lot of questions and comments that can cause us pain and anger. Ours is a unique journey filled with sorrow and loss, faith and hope.
Through learning about others' infertility and adoption journeys, I have glimpsed bits of my own story. Being able to identify with others, even in small ways, has been to me a soothing balm and has at times provided me a laugh at my own insecurities or fears. But in my reading I also came to the conclusion that there existed no one source that wove together the many threads that make up the tapestry of adoption. It would have been of incalculable benefit to me and my loved ones if we'd had an informative, understanding source that covered the time from, say, well before a couple boards a plane to a foreign country to adopt a baby to the time their adopted child is several years old. A book such as this, had it included the strongest and brightest threads running through it not just of faith but also of forgiveness, would have been as a work of art to me.
Faith is a prerequisite for adopting a child, in particular for adopting internationally. We need faith that our adoption agency will pull everything together to make things happen. Faith that another country's government and officials will legitimately do their part. Faith that the child whose picture or video we have received is meant to be ours. Faith that the pilot who is flying our child to his or her new home country won't crash the plane.
Some of the authors whose adoption stories I read spoke of faith in God, others of faith in themselves or in destiny. But none seemed to make mention of another essential ingredient prerequisite to adoption: forgiveness. The sources on adoption that I read simply did not tell me that I had to forgive anyone for anything, why I had to forgive them or how to accomplish this.
But just think for a moment about the enormous need for mastering the art of forgiving—and of forgiving over and over—within the realm of adoption.
Adoptive parents quite often need to make peace with themselves and sometimes with God for damaged or broken reproductive systems that refuse to create life or for the loss of life through miscarriage or stillbirth.
Sometimes we must forgive those who hurt us before we adopted—those who judged us for not becoming pregnant or for seeming to rub their pregnant bellies in our faces while we ached and longed for a baby to love. Maybe people asked us why we would go way over there—to China or the Ukraine or India—for a child. They may have insisted that there would be something wrong with the baby we had already committed our love and lives to before we'd ever met him or her.
We need to forgive doctors and clinics for the 50 percent of us who will never achieve a pregnancy through them. Those of us do not meet their protocols for producing babies prove unlikely candidates for fulfilling their success rates, and they may turn us away. They can tell us to consider adoption, but they can't prepare us for how our empty wombs will affect us when we walk out their doors for the last time.
Adopted children, even at quite early ages, can begin to hold resentments against the birth parents who gave them up for reasons their young minds struggle to understand. I realized this when my barely six-year-old daughter from China looked down into her cereal bowl one morning and out of the blue exclaimed, "My own mother didn't even want me!"
Birth parents whom we and our children may never know but whom we probably think of from time to time have to forgive themselves for the choices they have made. And everyone involved in adoption in any way needs to forgive a society at large for its stereotypes, misconceptions and insensitivity directed toward them.
We must forgive those adoption agencies that carry out unscrupulous practices. Though most are run with integrity and do their best to work with foreign nations, we may find ourselves at odds with them for extraordinary delays in getting our children or for the ways we are treated in other countries. This happened to my husband and me while we were in Vietnam adopting our son when our adoption facilitator practically tried to force us to take a second child against our better judgment.
The church too, while it strengthens our faith in God, can also give us more than a little practice at honing our forgiveness skills. All of us have a tendency to expect much from others who, like us, have committed to loving others with the love of Christ. We sometimes fail to accept members of Christ's body as flawed, sinful individuals, just as we are.
The truth is, it takes exceptional people to steadfastly walk with a couple through the enduring hardships of infertility and adoption. If you find a few, consider yourself greatly blessed.