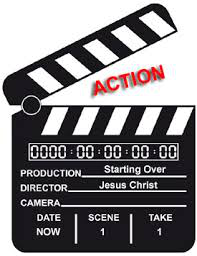 STEP 2: THE TIME FOR COMPLACENCY AND COMPROMISE IS OVER
It is understandable that many parents and students were both indignant and sympathetic to a student penalized by a theology professor with a low grade at a faith-based college for referring to God as a 'he.' Parents, Christians and likely non-Christians too, complained that their young adult children should be safe from such subjective, punitive and unjust actions at a Catholic institution.
But God does not call us to be 'safe.' He calls us to endure fiery trials and to rejoice when we suffer persecution for his name's sake. 'So they went on their way from the presence of the Council, REJOICING that they had been considered worthy to suffer shame for His name.' Acts 5:41. (caps mine)
'But even if you should suffer for the sake of righteousness, you are blessed. And DO NOT FEAR THEIR INTIMIDATION, AND DO NOT BE TROUBLED…' 1 Peter 3:14. (caps mine)
I wish I had understood these truths better as a new believer when the enemy unleashed a torrent of spiritual attacks against me through people who hated the name of the Lord. They frightened me by their profane mocking of God. Some even threatened to kill me. My hope and prayer is that students of faith will understand these truths better and stand strong, rejoicing in the shame and suffering they are counted as worthy of for His name's sake.
Once those who profess faith in Christ become aware that we are not wrestling with human beings but with demonic forces and their influence over people, we need to train ourselves in taking up the full armor of the Lord, (Ephesians 6), intercede mightily in prayer, and not just for our own children, grandchildren or children we love. Our prayers need to cover all who are being indoctrinated and led astray by the confusion and evil injected into education from kindergarten to college. They are in desperate need of being taught about the world's deception, the 'prince of the power of the air' as satan is referred to in the Bible, and how to combat these forces.
We live in troubling and unstable times. Covid, our liberties being taken away, the increase of lawlessness, Marxist ideology, massive corruption and contempt for Christianity and our Judeo-Christian principles are among the many things we find unsettling. In my heart, I sense the urging of the Lord for the church, that the time for complacency and compromise of any sort with the things of this world is over. I feel the tug on my own heart to surrender more to the sanctification process that can be painful. The Lord always wants Christians to be well, to cast off the things that hinder and hold them captive and to 'be strengthened in the Lord, and in the might of His power.' Ephesians 6:10. I have a strong sense in my spirit that we need all the strength He provides for more rocky times ahead.
Paul instructs us how to do this not against people, who are not our enemies, but 'against principalities, against powers against the rulers of the darkness of this world and spiritual wickedness in high places' that are. (Ephesians 6: 12). We need to outfit ourselves in that armor every day so that we can take our stand against the devil's schemes. We wear the buckle of truth around our waists, (Jesus Christ IS the truth that holds us together) the breastplate of righteousness (we guard our hearts by His righteousness, not our emotions), our feet fitted with readiness that comes from the gospel of peace (we are always ready to share the good news), the shield of faith, which with Paul tells us we can extinguish ALL the flaming arrows of the evil one, the helmet of salvation (we protect our minds and thoughts with the glorious hope we have) and the sword of the Spirit, which is the Word of God.
But at this hour, apostacy abounds at churches that have increasingly become infected by worldly values and beliefs. It is no a wonder that faith-based universities have as well. As difficult as it is to accept, the intent of the preachers and Bible-believing Christians who founded some of the best universities in America has been mostly undone. The fact that a radical, LGBT feminist teaches theology that injects her personal activism into the classroom at a Catholic University is a barometer of where we are as a society.
It may draw the ire of some to say so, but Pope Francis as the figure-head of the Catholic church is evidently proving himself as one that Jesus said to watch out for in the last days. 'See that no one leads you astray.' (Mark 13:5). He leads the way in a kind of Marxist Liberation theology heavy on social justice rather than the gospel message of salvation, is quite active in perpetuating the deception of climate change (the Catholic church is the only denomination that sits at the table of the United Nations), promotes interfaith (an abomination to God) and disagrees with Sovereignty of nations to protect their borders. I shudder to think of the path he is paving for his successor.
Other denominations are quickly filling pastor appointments with homosexuals, embracing the anti-Biblical lifestyles, placing large, rainbow flags before their congregations, taking up a pro-abortion, detestable to God shedding of innocent blood advocacy, while others inject Critical Race Theory in children's Sunday school lessons. How one man's opinion that there are only victims or oppressors based on skin color, with a need to engage in racism to destroy racism, embedded itself everywhere in our culture is incomprehensible. If churches are becoming less inclined to counter culture, how much more so are colleges founded on solid, Biblical principles?
One of the most destructive worldly influences in colleges is the transgender movement. It is purely demonic, seeking to destroy the very essence of God's design for people as male and female and How He expects us to carry out gender-specific roles. It targets the family unit, the glue that holds societies together. Institutions bow to 'diversity, equity and inclusion,' smokescreens for partiality, racism and uniform thinking. In a very real sense, they are engaging in desperate self-preservation. They fear threats of discrimination lawsuits, 'bad' publicity, less funding, lower numbers of applicants and the relentless, incendiary attacks by cancel culture. The end result will be that they have participated in their own suicides.
Their statues, Biblical inscriptions and chapels are being desecrated and torn down. They will bow to the pressure to change their names to neutralize the faith foundation of these schools. Students and staff who would have been barred from attending and teaching at these colleges for most ungodly behaviors will be granted more admission and positions to bully Christians, disparage the Bible and protesting Israel as a nation state. (This is a growing demonic force in these institutions and in fact, our government), The Lord says, "I will bless those who bless Israel, and I will curse those who curse her.' Genesis 12:3. Curriculum that bashes straight, white males, preaches contempt Conservatism and Capitalism, refutes a God-created nation and embraces gender confusion will increase. Born again, Bible-believing students will steer clear of them. These schools are representing the world and the downward spiral of morality.
Be aware of the devil's schemes. Understand and utilize the authority given to us in Christ to defeat the enemy. As difficult as it may be, do not shelter young adult children about the times we are living in. They believe in a sense, that they are immortal. They look to long and successful futures doing things they love, gaining prosperity and making a difference in the world. To make the biggest difference in theirs and others' lives is to understand that the times we live in are perhaps the Braxton hicks that come before the labor pains of a pregnant woman, or, the beginning of sorrows for the globe before the Rapture. Perilous times will come, but it is more urgent that we and they share the gospel message than they get advanced degrees and worldly approval. 'But we do not belong to those who shrink back and are destroyed, but to those who have faith and preserve their souls.' Hebrews 10:19-39. But then, Jesus may return at any moment, and that should be ours and their great hope and joy.