God's Presence With Wings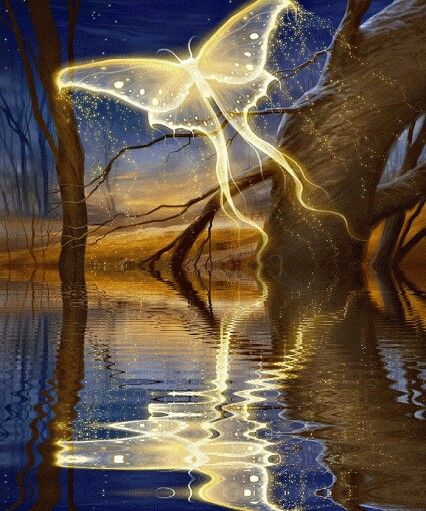 "I will praise the Lord, who counsels me; even at night my heart instructs me. I have set the Lord always before me…You have made known to me the path of life; you will fill me with joy in your presence with eternal pleasures at Your right Hand." Ps 16:7,8,11
When God knocked on the door of my heart in 1994 and I let Him in, I thought if I asked, He would provide definitive directives in various areas of my life.
Not only would I do what was right in His sight, He would eliminate situational uncertainty and despair.
Thankfully, I grew more mature in my faith than this. I am grateful that God was more interested in changing my worldly heart and mind than circumstances. But as a spiritual infant then, I struggled to understand how my newfound desire to please Him as a woman of service to others was not an easy success.
After all, I gave up my desire to achieve and prosper in the advertising industry. I faithfully held to a new and strong conviction that making people think they could not live without things they did not need was a manipulative and dishonorable profession. I also turned down a maybe sort of fun and creative offer to write fortunes in cookies, rejecting the occultist nature of such things. Instead, I took a job as a counselor at a crisis hotline for youth to make a positive difference. Yet, it took both an emotional and physical toll on me. Barely a teen on the streets called, but many people suffering mental health issues that did not really want referrals to get help, did. Many calls were from pranksters with nothing better to do. Still, I shared with many that God was their true source of help. But I found myself regularly reprimanded by my supervisor for 'proselytizing,' a term I was not even familiar with. This came as a surprise to me at a Catholic organization called 'The Covenant House,' where I would be summoned into her office for scolding as I stared in confusion at a large, framed Bible verse on the wall behind her.
But even more unsettling than the calls was that a coworker who would hear me talk about God and became hostile. Juan's dirty looks, intentional bumping into me and angry comments finally became unsettling enough to turn into a plea to my supervisor to intervene. She sent me to an empty conference room with whom she referred to as 'the harmless Juan' to work it out. With steely eyes, he told me that every time I mentioned God, he wanted to murder me and graphically laid out how he would do it. All of the stress caused IBS-related pain in the gut that doubled me over in my cubicle.
I lacked the wisdom, insight and maturity to not personalize everything as a commentary on my incompetence to please God and as a painful rejectability factor among people. I did not understand that Satan wanted to wrest my soul back into the pit, but that the attacks from him were a sign that he never would! Instead, I obsessed with wondering did God want me to quit or do better? Should I accept defeat and struggle with another angst of how to earn a living? Oh, me of little faith!
Adding to my professional woes was a stressful relationship with a man I met at my church's singles' group. I believed that just because he was a Christian, it was a foregone conclusion that we were right for each other. My naivete, along with what I believed to be the prophetic words of my Bible instructor that he saw us 'married in four months,' kept me working at pleasing a man with huge expectations and not a lot of respect.
God seemed so silent as I endured fear, pain, and the constant sting of rejection. One day as I stood on the platform waiting for a train to take me to my terrible job, I prayed, 'Lord, show me a tangible sign of hope from You with a butterfly.' Suddenly one softly fluttered by, lifting my spirits at His visible answer to a simple prayer from a spiritual infant. With continued prayers for a tangible way to feel His presence, and more sightings of butterflies, I began to feel a comforting, special connection to God with these winged creatures.
One afternoon when I was feeling particularly alone and dejected on a lunch break at an outside table at work, a butterfly descended out of windy skies. The delicate, orange, gold and black insect perched on my handbag for at least a minute or two before rising back up overhead and fluttering out of view. I thanked and praised God, and returned to my job renewed for the afternoon.
Weeks later, when on my way to a friend's party where the boyfriend who broke up with me was also invited, I prayed for God to calm my anxieties. Suddenly there appeared a large, low-sailing butterfly that descended to about knee's length, at kept pace with me in companionship for the whole two blocks I walked to that party.
Six months later, I lost the job too, and found out my nephew had leukemia. On a family trip to Disney World, I felt like the saddest person in the enchanted kingdom. I prayed for a sign of hope from God but laughed at myself for wanting butterflies in the night while my family and I waited for a parade to pass. But to my astonishment, a Kingdom of life, light and hope made itself real to me as no less than a dozen dancers atop a float swayed and fluttered by, dressed in a dazzling rainbow of colorful wings with a tribute to the beautiful butterfly.
Like a child who looks up at her father and pleads, 'Dad, tell that story again,' the butterfly is to this day is to my spirit a tangible and comforting sign of hope from the Lord of His presence and care for me. Along with all the other little children at the Disney parade, I clapped in awe and wonder.
My nephew was healed and shortly after this, I met my husband of twenty-three years now who loves me unconditionally. God gave me the greatest job I could ever hope for with the gift of raising two, beautiful, adopted children.