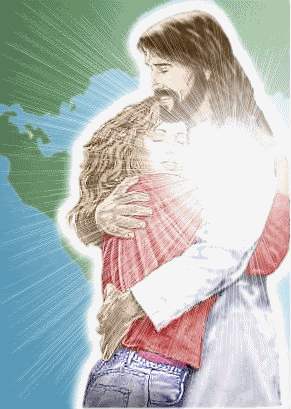 God's unfathomable love for us beckons us to engage in a spiritual relationship with Him as Heavenly Partner. To truly fall in love with Christ is exciting, but not of the earthly kind where the mind whirs and turns with anxious questions. Does he really like me as much as I do him? Does he want to see me as soon as I do him? Does he have the kind of free time I desire for relationship? Instead there wasn't a time from before we were born that He didn't not only like us, but love us with an unfathomable love that took Him to the cross to die for us. He is always available, always wants as much time with Him as there are moments in a day. He beckons us not to try to impress him, but to rest from laboring to do, to accomplish, to prove. He wants our eyes to gaze upon Him, turning away from the treasures of this world. The presence and voices of earthly things recede so that our budding desire for our new love captures us so completely, it is as if we are the only two that exist.
Like any fledgling relationship, quality time with our Creator and Saviour is important so that we can hear His affirming whispers to our hearts. We begin to comprehend who He is, how He will care for us through what He tells us He values and loves. Slowly our trust in Him builds as He fills the empty space in us, made just for Him, our true Soulmate. With great peace and joy we delight in knowing that He finds us worthy, beautiful, not lacking in any way despite our imperfections, struggles and flaws—those broken places in us we tentatively confide in Him. With great compassion, mercy and understanding He says, "Tell me more," though He already knows us completely.
He opens a whole new world to us. Though He can choose anyone, He has chosen us! And we begin to perceive Him as more than our Knight in shining armor. He is our mighty Warrior that will protect, defend and fight all of our battles with enemies that come against us, demons that oppress, the trouble He says we will still face in the world even as He walks beside us.
He opens wide His arms, inviting us into an exquisite palette of colors, and we step forth into His radiance where He embraces us, sings over us. He places a crown upon our heads and we become His bride, His family. He clothes us in the finest of raiment and our scarlet is changed into the purest white. Our ears are filled with laughter like the joy of a thousand children. Singing, so lovely, it makes us both laugh and cry breaks forth from the heavens as His angels rejoice over us. Our new love quiets us with assurances that the place we have been longing for all our lives is in eternity with Him. He tells us He has already prepared that place for us and it is something so magnificent our eyes cannot fathom it, and our ears have but heard a sampling of its wondrous melody. And there, we will live and praise Him forever.