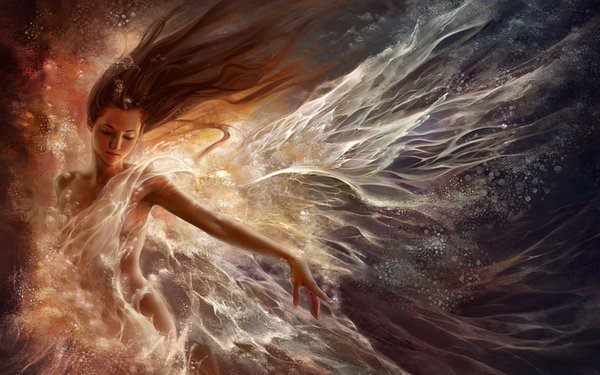 When you've finally gained altitude and are in flight through the writing project you told yourself you would get done some three-hundred yesterdays and you just can't stop the momentum…
And you are living in an alternate universe battling demons, or obsessed with the smallest details about people that don't exist, or swimming along the bottom of the sea digging up both skeletons and nuggets of gold…
And the people living in the here and now wonder where you are and why you aren't available, and they get both mad at and bored with you…
What's not to get?
And when people talk to you, you nod and mumble, "Okay," because you value them and you're here, sort of—but they hover and raise their voice and demand, "I said, green beans or corn with dinner?" You stop and look up at them in a fog and wonder, just how it is that a vegetable is important? Good grief, you're trying to save an entire city from destruction!
"Beans, no corn, you choose."
And you quickly explain to those you think won't read your book—because it's not their genre of choice or they don't share your world view or because people have so little time for reading —what it's about and you dare to glimpse into eyes turned large and round under arched brows and so affirming and they say, "Oh, that's nice."
What's not to get?
And you listen to others' schedules and plans and routines unfold and play out…
And you've moved two months ago but are still surrounded by unpacked boxes, but all you need is your laptop, reference materials and cell phone and you don't mind wearing the same four things, two of which are viewed by society at large as pajamas, and those boxes can wait…
What's not to get?
And you hear others' stories about the new restaurant in town or an appointment they missed, or a recipe they tried out—step by step—but what you really want to talk about is a motivation driving a an imaginary person, or the slope of a cliff, or a clever phrase you've coined to explain an emotion or societal condition…
What's not to get?
And you want to tell people that if you were paid even minimum wage for every hour you spent writing, thinking about writing, researching for writing, or were paid back for a writing-related service or item like conferences, editors, videographers, books, printer paper, ink, classes—you could invite everyone you know to move to palatial dwellings on your exotic and spacious private island…
What's not to get?
And when you finally snap out of this world they don't inhabit and you find yourself sitting in a chair staring at an empty one beside you and wishing someone was in it, but everyone has taken off fed up or gone to bed, you start talking to the chair…about how deeply you feel your book…about a book idea…about your ideas that could wind up in the book…
What's not to get?
And try as you might to express it, this writing thing—it's what you are, not what you do…
But others can't always figure out just who you are because what you write does change—because as you keep on writing you discover there is something to reality that is fluid, it expands—and they may live out theirs, but yours is always turning into something weird or outrageous or scary or deep—on purpose…
What's not to get?