Perspectives & the Second Half of the 10 Commandments of Conflict
Friday, August 25, 2017 by Christine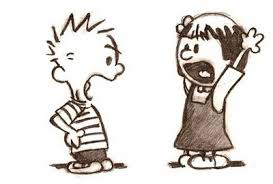 While I blog about conflict, the Director has taken me on location to clear away some weeds, plant a few flowers & maybe mend a fence. Sometimes we wonder how it is that a plot twist occurs in the movie of our lives that turns a comedy or romance we were playing out into a tragedy or nail-biting suspense film we end up cast in. But I know that He is showing me that conflict/resolution can be an ongoing process. It can take time to build trust lost & communication ignored or overlooked, or to turn disdain for another back to esteem. You have to meet people where they are & accept them for who they are. You must fight urges to project beforehand, though thoughts may reel in your mind such as—"They'll probably mention that. Then I'll say this," or "I'll bet they'll do a. If so then I'll react with b." You take those thoughts captive & make them obedient to Christ. And you probably want to keep expectations low. You may envision yourself leaving behind a lovely garden. The important thing is that you sow good seeds.
Say, "No" without guilt. Social media & 'news' outlets have ramped up division & discord. A lot of what they do (& we often play into) is to focus on how shocked & outraged we should be. I am inclined to jump into the fray like I'm at the gym. I volley back & forth with another or others with passion, criticism, or insistence that my perspective is the right one. We need to refuse to play verbal volleyball because even if we happen to be sharing truth, people do not receive it well when they are thwacked in the head with it. It does not bear the fruit of the Holy Spirit. Scenes of life don't always have to be filled with dialogue. In other words, there is a time to speak and a time to be silent. Knowing when requires a sensitivity to the Holy Spirit. Titus 2:11-12 says "For the grace of God that brings salvation has appeared to all men. It teaches us to say "No" to ungodliness & worldly passion & to live self-controlled, upright & godly lives." That 'grace,' or favor toward the unworthy that God demonstrated to us must extend to all we find ourselves engaged with in conflict. For that 'grace' affects our tone & tactfulness. Conflict is normal. Conflict is okay! But we need to glorify God in the midst of it with a loving concern for others, taking a stand for Biblical truth & not being dragged into sin over it.
Unplug from abusive situations. We've all heard expressions like "Bad company corrupts good character," or "You're known by the company you keep." These truisms originate from Proverbs. "Do not make friends with a hot-tempered man, do not associate with one easily angered or you may learn his ways and get yourself ensnared." (22:24-25) I am fully aware there are combative people we must encounter & have relationships with like a crazy uncle, a co-worker or a neighbor. Yet do we re-visit dry wells looking to be filled? We need to stay away from sites, groups or sources that kick up our own anger or wilt our spirits. Or, at minimum, limit our exposure to them. And, this is really important: We have to stop getting mad at people living in darkness! The conflict going on globally is so much of man thinking his limited enlightenment is going to write the script that flows with the best ideas to lead through critical times like these. This is false. We are engaged in a global spiritual battle of which God is in control & always at work behind the scenes. The answer is not more of the 'tolerance' foisted upon a nation, for God does not applaud tolerance. For, tolerance + moral relativism = confusion, chaos and crisis. (Read more about what happens to a people when they 'choose their own ways' in Isaiah 66). At the same time, neither does God applaud extremism. Ecclesiastes 7:18: "The man who fears God will avoid all extremes." Conflict can be spiritual & requires the weapon of prayer to fight against it, but we need to refuse to take center stage at places where we are harmed. Walk away or shut it down where conflict flourishes.
Ask God for wisdom or, Don't believe every word said! We live in a world becoming increasingly deceptive like so many extravagant special effects & technological marvels spinning around us. Discerning the truth requires wisdom now more than ever. While God is happy to give it to us, "If any of you lacks wisdom, let him ask God who gives generously to all without reproach, & it will be given him," James 1:5, there are actions required of us before we receive wisdom & grow in it. First we must come to God through His Son Jesus Christ and make him Lord and Savior of our lives. We seek Him with all of our hearts, read and know His Word & live in continual fellowship with His Holy Spirit. And, that "Spirit of truth guides us in all truth." (John 16:13). I find myself quick to believe something because I think I trust the source. Or I do not take the time to investigate the source. Before we speak, post, write or comment do we seek wisdom and discernment from our One source of truth before we pass something along as gospel?
Seek peaceful resolution. There are certain people we all know with whom we will never see eye to eye. We have to pick & choose our battles with them & others. We should ask ourselves if by engaging in conflict will we be headed towards a confrontational breakthrough? Or, will we be careening ourselves and another for confrontational collision? Conflict should lead to resolution. And resolution can lead to reconciliation. God loves reconciliation for Jesus's greatest gift to us was to reconcile us to God. We may be dealing with our polar opposite in perspective, yet guidance the Holy Spirit gives to us may require us to do nothing. Or, it may require our obedience to truly touch and change a heart in action. Maybe we will be urged to write someone a heartfelt letter, give a gift in secret, pray a certain way, or meet & connect with someone in person. God leads us to action to resolve conflict in countless ways.
Choose to let God's love rule in your heart. There is no better way to sum up how to engage in conflict in a godly way than 1Corinthians 13. It's often referred to as the 'marriage' scripture because God knows marriage can often present conflict. "If I speak in the tongues of men and of angels, but have not love, I am only a resounding gong or clanging cymbal. If I have the gift of prophecy and can fathom all knowledge, and if I have a faith that can move mountains, but have not love, I am nothing…" Of love, it reveals itself in patience, kindness, a rejoicing over truth, protection, hope and perseverance. What it does not do is envy, boast, get prideful or self-seeking. Nor is it easily angered. While conflict will always arise, love never fails.
I need to give credit to Pastor James Graziano of Faith Tabernacle Church of N. Babylon, NY. Without the wisdom the Lord imparts to him through his obedience, this two-part blog would not have been written. I share truths from him with you so that truth may travel as it should.
---
---